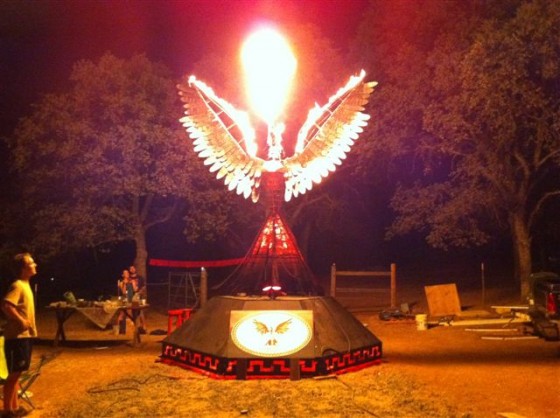 'Phoenix Risen' from the ashes of the Trojan Horse
The Horse lives on! And not just in people's hearts. Last September, two days after the Trojan Horse burned, Norm Tucker, a virgin Burner from Auburn, California, went to the remnants of the Horse to collect some Trojan hardware as mementos. There he met Ray Keim of Vancouver, Washington, the Leave-No-Trace Coordinator for the Trojan project, who was raking the ashes as part of the clean up.
When Ray told Norm that he wanted to use the salvaged metal materials to create a Phoenix rising from the ashes of the Trojan Horse, Norm's eyes lit up, as did those of his crew from Kindergarden Camp who were there with him. They loved the idea. Norm is a very talented iron artist who used to work metal professionally. Ray suggested that the piece could celebrate recycling, renewal, and the Trojan Horse, while memorializing Harly Payne, a friend who had just died at Burning Man. (A pilot and skydiver, Harly was going to organize skydivers to videotape the Grand Procession of the Horse.)
The next month, Ray delivered a truckload of Trojan bolts, braces, etc. to Auburn and the project began in earnest. Norm's two sons and several campmates from his 2011 camp worked "a couple of thousand hours" building the all-steel structure, which they named, "Phoenix Risen." Kathleen Hoffman kept the project going with her endless energy. Daniel Skirblah created the flame effects and had the eye for turning burnt and twisted metal into beauty. Norm, a facilities manager for an IT firm in the default world, is still working on the final touches, but 95% of the piece is complete with a week to go before showtime. The art will be displayed front and center in the 7:30 Plaza at G St. After dark, it will be illuminated in part by some of the 42,000 LEDs that lit the Horse.
Norm says, "one of the things I like best about the piece is that we have recycled so much of such a memorable previous work of Burning Man art. The Trojan Horse was just about the coolest thing I'd ever seen, on or off the playa. Beyond the physical elements, I think our project incorporates a lot of the spirit of the Horse and, from what I understand, of Harly's spirit as well. I like that it works on different levels."
NOTE: Harly Payne will also be remembered by a reading of his poetry by family and friends at Shift Camp, 9:45 and A at 8 PM, Friday, Aug. 31, the anniversary of his death.