Nearly five stories high, the Trojan Horse will be visible from afar and make quite an impression approached from any direction. The sheer size of the beast and the large, black, triangles that make up its cubist form will convey a sense of brute power.
The horse's exterior is made from 200 black panels, each attached to a triangular frame. Panel lengths range from up to 13′.
---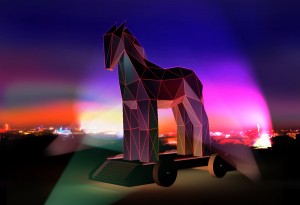 At night, horse will be heavily illuminated. Two different lighting schemes–individually and in combination–will accentuate the horse's malevolent presence on the playa.
Learn more about the Illumination
---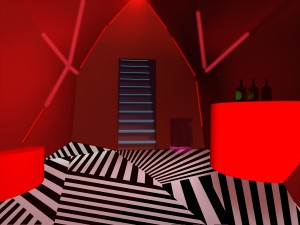 The interior of the horse is divided into three very different rooms. The belly of the beast will be a surrealistic space designed to play with the mind and senses.