Aug. 30 2012
Trojan Horse Reunion at Burning Man 2012
Burners who participated in Trojan Horse 2011 and fans of the piece are invited to a reunion and celebration of the Horse at 8 PM, Thursday, Aug. 30. The event at Shift Camp, 9:45 and A, will feature several core folk from the project, including originator Douglas Bevans, Constuction Coordinator Dan Fox, Homer, Dionysius, filmmaker Todd Darling, and Dear Alma all the way from Singapore. "Black Rock Horse," Darling's documentary, will screen at 8:30, followed by N.K. Guy's slideshow about the project. Extra points awarded to attendees who come in their Greek or Trojan costumes.
Location: Shift Camp, 9:45 and A, BRC
Time: 8 PM, Thursday, Aug. 30
---
Past
Friday – Sept 2nd, 6pm
PROCESSION AND BURN!!!
Our big night! Procession details.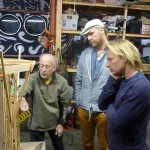 April 14-17
San Francisco Model-Building/Open House
Treasure Island's fabled World Headquarters, home to such iconic playa artists as Mark Lottor, Peter Hudson, and Marco Cochrane, was the scene of much horsing around in mid-April. Work began on the first step in constructing the horse, building a 1/8 scale model. Five core team members–Douglas, Ariel, Ray, Joel, and Eric–hosted an open house that drew several new volunteers and one major funder. (see some shapshots)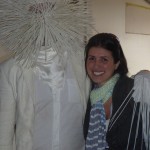 April 13
Seattle, Open House
After shooting video at the Triple Door Jazz Club, Alaya, Douglas, and Eric presented plans for the Trojan Horse and recruited new volunteers at Inscape, a space for artists in Seattle's International District. (see some snapshots)
June 18
VANCOUVER Trojan Horse-athon BBQ and Fun-Raiser
Here's a recap and hot video footage!
June 18
SEATTLE Solstice Parade and Fremont Fair
fremontfair.org
June 18
SAN FRANCISCO Burning Man's Precompression 2011
You'll find a recap and images here, and additional videos in our LiveStream Video Archive.

June 19
SEATTLE Trojan Horse-athon Toga Party, Afternoon Tea, and Spin Jam!
Find a recap and images here.
June 23
SAN FRANCISCO 2011 Desert Arts Preview
More information
June 23
VANCOUVER Burning Man Vancouver Meet
More information
July 30, 8pm
Flaming Lotus Girls/Opulent Temple Party
August 4, 7pm-late
Monsieur Bacchus presents Trojan Burn